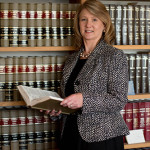 Laura has been a legal assistant at Strellis & Field, Chartered for over 30 years.  Born and raised in Waterloo, Illinois Laura attended Waterloo High School and joined Strellis & Field immediately thereafter.  
Laura is an integral part of the firm providing a wide range of support to both our clients and attorneys alike.  Laura has assisted in the handling of thousands of cases ranging from medical malpractice, products liability, civil rights, and workers compensation amongst others.  Laura's work ethic and attention to detail make her an indispensable asset, as she works diligently to ensure that all matters are taken care of as swiftly and accurately as possible.  
Laura is married to Roger Kinzinger, who works as a carpenter in Columbia Illinois. Together they have two children and two grandchildren.