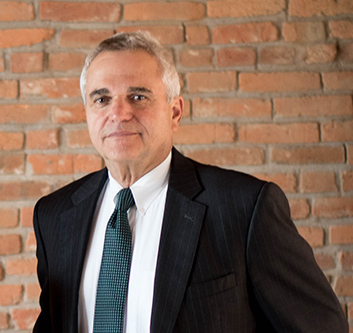 Mr. Strellis has advocated the claims of his clients resulting in multiple million dollar verdicts and settlements. He has tried to verdict over a hundred jury trials and has shared his experience with the younger members of the firm. Jack Strellis engages the wrongdoer on the playing fields of the U.S. and State courts. Relief is also sought against employers before the Industrial Commission.
Jack attended Austin High on the west side of Chicago and there served as president of the student government, and went on and graduated from University of Illinois, Urbana, in physics and chemistry.
Jack, a graduate of Loyola School of Law in Chicago (1971), first practiced with the firm of McCarthy and Levin on Monroe Street in Chicago and there was engaged in an active civil trial practice. (May 1971- December 1971) Here, Jack represented many of the disadvantaged in our society and has never forgotten the need that these dignified members of our society have for effective access to the courts.
Mr. Strellis served as an Assistant United Stated Attorney (1971-1975) within the Department of Justice. Twenty-nine public officials including mayors, legislators, and school board members were prosecuted by Mr. Strellis and were convicted and sentenced. The work ethic of Mr. Strellis was shown there when, Jack, during his tenure with the United States Attorney's Office tried three federal felony cases to jury verdict in one week, all before U.S. Judge Henry Wise, now deceased. When one jury was deliberating the next was being chosen! While serving as First Assistant, Jack also represented the United States in Tort Claims cases and under The Economic Stabilization Act of 1972 pursued actions to stem inflation.
Jack Strellis argued civil and criminal cases before the 7th Circuit Court of Appeals including en banc reviews, meaning appeals before all the judges of the 7th Circuit.
Jack carries a union card (BRRT) and has steadfastly represented union members, including:
Carpenters and millwrights constructing commercial and residential structures
Hod carriers and masons for injuries while working on scaffold
Electricians and maintenance personnel
Brakemen suffering loss as a result of an unsafe work place or failed switches, Trainmen working the hump when setting skates
RR Engineers and carmen for toxic inhalations
Ironworkers walking the iron, setting purloins, building scaffold, or excavating concrete for footings of structural steel
Chemists and other workers exposed to heavy metals.
Jack has represented workers caught in peril of defective products where detonations occurred and lock-down mechanisms failed. These represent just a small share of the life altering experiences of his clients.
Jack believes that a medical malpractice case must be handled with particular respect for the medical professional. He believes that mistakes can be made that are not actionable and, therefore, a number of cases should not be filed. There are no guarantees in medicine! With that having been said, if a respected medical provider certifies that the case of our client is meritorious, then we prepare to the hilt, lending all our resources, and will take on all comers to right the wrong so that our client is fairly and reasonable compensated.
Likewise, Jack has brought actions against engineers, architect and other professional that had failed to exercise reasonable care and caused injury to our clients. This is where respect for the scientific method has paid particular dividends for our clients.
Mr. Strellis has successfully prosecuted Sherman and Clayton Act anti-trust cases along with a number of cases that unreasonable restrained trade.
Employment discrimination, slander, retaliatory discharge, and civil right cases handled by Mr. Strellis have resulted in recoveries in excess of a million dollars.
The largest jury verdict for retaliatory discharge in Illinois was the result of Mr. Strellis and his partner Dennis Field's prosecution.
The foundation of Jack A. Strellis' legal representation of clients is founded on scientific and engineering principals and the respect for the scientific method. Mr. Strellis' trial applies well-founded scientific and economic principals with impressionable demonstrative evidence. Knowing this, insurance agents know when it is in their interest to settle a case.
Areas of Practice:
Bar Admissions:
Illinois, 1971.
U.S. Court of Appeals 8th Circuit, 1977
U.S. District Court Central District of Illinois, 1971
U.S. District Court Northern District of Illinois, 1971
U.S. District Court Southern District of Illinois, 1971
U.S. Federal Court, 1971.
U.S. Supreme Court, 1987
U.S. Tax Court, 1988
U.S. Court of Federal Claims, 1987
Education:
Loyola University Chicago School of Law, Chicago, Illinois, 1971 J.D., Doctor of Jurisprudence
University of Illinois, Urbana, Illinois, 1967 B.S., Bachelor of Science
Professional Associations and Memberships:
American Bar Association
Vice Chair, Worker's Compensation Committee, General of Practice Section
Association of Trial Lawyers of America – Member
Illinois State Bar Association – Member
7th Circuit Court Bar Association
Liason for the Southern District of Illinois
Birth Information:
July 5, 1944, Chicago, Illinois U.S.A