Firm Overview
Auto Accidents · Medical Malpractice · Construction Accidents · Brain Injury · Spinal Cord Injury · Multiple Injuries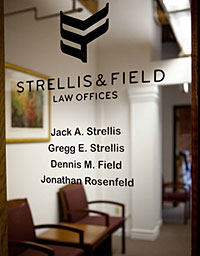 Your case deserves to be handled by lawyers who are experienced in handling serious personal injury cases. For more than 30 years our office has handled some of the most complex personal injury and wrongful death cases in a diverse areas including: construction injuries, product liability, trucking accidents, medical mistakes, aviation and nursing home neglect.
Our practice is dedicated to helping the injured and their families recover from tragedies. As lawyers who concentrate in helping victims of personal injury and wrongful death, our job is to do everything in our power to provide for their future needs.
Don't go it alone. At Strellis & Field, we pride ourselves, being not only advocates for our clients, but also as being counselors. We provide guidance to clients and their families from the initial shock of an injury through the progression of emotions and challenges that they are likely to encounter down the road.
Every lawyer at Strellis & Field is committed to providing the finest level of service to our clients. You will be treated with respect. Questions will be addressed promptly. Most importantly, you will have the peace of mind that you have a talented legal team working for you.
Practice Areas
At Strellis & Field, we help clients with many types of injury cases. Read more about each of them by choosing from the practice areas below.
More Practice Areas »